Kungsholmen Restaurant and Conference Centre (copy)
Address: Mårdnäsvägen 45, 82393 Segersta
Show map
Address: Mårdnäsvägen 45, 82393 Segersta

Erik and Billan bought Kungsholmen in 1988, the same year Erik retired from his cross-country skiing career. Billan continued skiing competitively up to 1995, and summer training camps for young skiers fit in well since all the rooms could be utilized. Our conference business grew out of a request to have dinner here, and since then the ball just kept rolling.
History
On June 18, 1873, King Oscar II was on his way to Trondheim when he came upon a small islet in the River Ljusnan outside Segersta. He was saluted by a line of log runners. The impressed king asked the captain what the islet was called. The answer was, "In the 18th century it was called Garpholmen, and it is now called Måsholmen (Gull islet). The king then declared: "hereafter it shall be called Kungsholmen" (King's Islet)

For more than a century, Kungsholmen served as a residence for log drivers on the river Ljusnan. The log sorting basin was only 200 metres away. In 1934 there were 265 log drivers employed, and in the record year 1937, almost 28 million logs floated past Kungsholmen. Today, entirely different activities take place at Kungsholmen.
Show more
About this activity
E-mail (Organizer)
Website
Hostels
Distance: 5.4 km
Welcome to Växhuset – an ecological centre in Mobodarne. Here you stay in Solcellen, our twelve-sided hostel where we offer accommodation in bunk beds in cabin-sized rooms. Storage is very limited but there is a luggage shelf and a few hooks for clothes. At Växhuset be inspired by the environmentally-friendly buildings, garden and thinking. We guarantee you'll have green dreams!
B&B
Distance: 15.2 km
Stall Stråtjära is an active small farm house that offers B&B accommodation in a cozy Swedish atmosphere. The wake-up call in the morning is from the sound of many of the farm's animals, and when you open the curtains; your eyes will look at the horses grazing in pastures. It can't get any more peaceful than this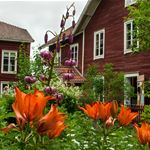 B&B
Distance: 18.5 km
Welcome to unique accommodation on a Unesco world heritage site! With considerable respect and passion for the farmhouse and the site´s cultural history, five rooms have been renovated, each with its own character and charm and has its own shower and toilet.