Fejan Memorial
Address: Villavägen, 82020 Ljusne
Date: Wednesday 12 may 2021 - Tuesday 12 May 2026
Show map
Address: Villavägen, 82020 Ljusne

Memorial monument from the turn of the century
Ljusne is famous for its strong workers' culture, with roots at the turn of the century when industrialism was blooming. On the 18th of July the worker's movement youth club were planning to inaugurate their new flag, but were stopped by Count Walter von Hallwyl, the owner of Ljusne-Woxna inc., who forbade them from holding activities in land owned by the company. This caused a protest meeting of 1500 workers to be held in the patch of common land called "Fejan", where together they wrote a telegram to the king. Count von Hallwyl was summoned to the court, where he was reprimanded by the king for his rude behavior towards his employees.

This stone, on which the whole telegram is recorded, was erected in memory of the workers' victory over the count.
Show more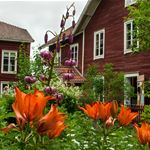 B&B
Distance: 9.4 km
Welcome to unique accommodation on a Unesco world heritage site! With considerable respect and passion for the farmhouse and the site´s cultural history, five rooms have been renovated, each with its own character and charm and has its own shower and toilet.
Hotel
Distance: 10.9 km
First Hotel Statt is located in central Söderhamn, and dates from 1880. Some of the rooms have of view of the square outside City Hall. Our conference centre can accommodate 400 people, with air conditioning and the availability of arranged activities for conference participants.
B&B
Distance: 14.2 km
Stall Stråtjära is an active small farm house that offers B&B accommodation in a cozy Swedish atmosphere. The wake-up call in the morning is from the sound of many of the farm's animals, and when you open the curtains; your eyes will look at the horses grazing in pastures. It can't get any more peaceful than this